Les Baugh was able to use prosthetic arms by simply thinking about it.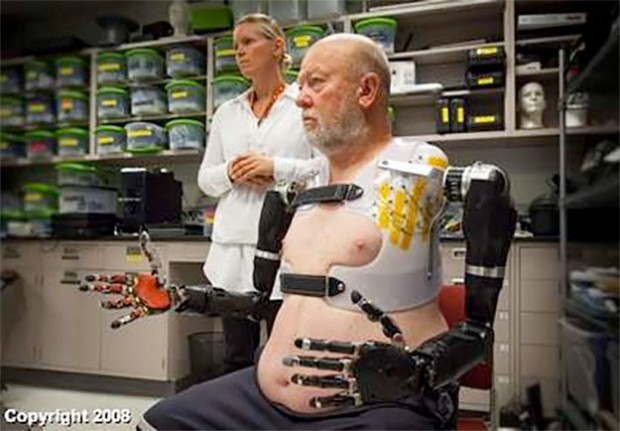 A Colorado man became the first bilateral shoulder-level amputee to wear and simultaneously control two of the Johns Hopkins University Applied Physics Laboratory Modular Prosthetic Limbs (MPL). Les Baugh was able to operate the system by simply thinking about moving his limbs.
Before testing the limb system, Baugh underwent a surgery known as targeted muscle reinnervation. "It's a relatively new surgical procedure that reassigns nerves that once controlled the arm and the hand," John Hopkins trauma surgeon Albert Chi, MD, said in a release.
Then Baugh was fitted for a custom socket that supports the prosthetic limbs and also makes the neurological connections. By the time the socket was finished, Baugh said he was more than ready to get started. When he was fitted with the socket and the prosthetic limbs were attached,  he moved several objects, including an empty cup from a counter-shelf height to a higher shelf, a task that required him to coordinate the control of eight separate motions.
"What really was amazing – and was another major milestone with MPL control – was his ability to control a combination of motions across both arms at the same time. This was a first for simultaneous bimanual control," said prosthetist Courtney Moran, MS, CP.